Walmart offers a nice online shopping experience overall. However, if you decide to search autism toys on Walmart, you might not be so satisfied with the results. These must-have tips would help you optimize your search.
Things to Know before Buying Autism Toys
Autism toys are the toys that are interesting and beneficial to the children with autism.
Finding an idea toy for an autistic child can be daunting for most people, never mind if you don't know the child very well. However, it will be helpful if you consider the following factors.
The cognitive skills of the autistic child are the main factors to affect the choice. If an 8-year-old autistic child has the cognitive skills of a 5-year-old, you might want to pick a toy that is recommended for age 4-6.
If the child has the pica behavior of eating certain toys, you might want to avoid those kinds of toys unless you buy those for therapy purpose.
Is the child only interested in certain toys? It is always a winner to buy the toys that the child is already interested in unless you purposely buy different toys to extend their interest.
Does the child have enough gross and fine motor skills to use the toy?
The more you know the child, the better choice you will make when buying a toy for them.
What to Expect When Searching Autism Toys on Walmart
When you use the keywords "autism toys" on the search bar of Walmart website, you will see 25 pages of at least a thousand sensory toys as a result. Yes, sensory toys are good for autism, but they are not the only toys that can be identified as autism toys.
The main reason for the lack of varieties in the search is because the complication of identifying autism toys. There is no definite way to define if a toy is an autism toy or not. A toy that is very interesting to one autistic child(as Child A) might barely get a look by another autistic child(as Child B). For Child A, this toy is an autism toy if it is beneficial for them. But for Child B, it is not an autism toy until they grow interested in it.
If I have to do a guessing game to pick one sensory toy out of the thousand toys there, I will pick Sensory Fidget Toys 54 pieces Set.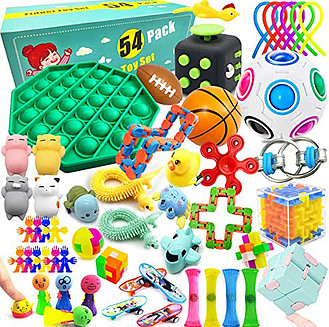 Here is value for this toy set:
Most autistic children would be interested in at least a few different items from the set. They can use the toys alone. They can play one toy at a time until they get bored with each of them.
The toy set has multi benefits. It provides great tactile sensory input through different shapes and feels of the toys. Some toys are great for finger strength, and some of them can also help improve logic skills with their simple puzzle games.
Although most of the toys are pretty simple, there are a few of them can be challenging. If it is easy for the child to pull one string, add to two or three strings to make it harder. Pulling all six strings together is definitely much harder. The toy set can stretch a few years to come.
The toy set can turn to a learner center for an autistic child. Depends on the need of the child, there are plenty of opportunities to learn colors, shapes, touch sensory words. The surprise box is another way to create WH questions. Best of all, autistic child can learn to share the toys with their friends.
As you can see, this is a set of toy can be a winner for most of the autistic children. It provides a great value for the price. So the question becomes:
How to Value Autism Toys
The value of an autism toy is more about the benefits and the amount of usage of the toy. As general rules of thumb:
Child's interest matters. The longer the child can play the toy by themselves, the higher value it is worth (assuming the toy can be maneuvered safely by an autistic child). It is not about price. For example, an autistic child might be more interested in a $20-toy than a $100-toy. The $20-toy has better value than a $100-toy for that child at that moment.
The toy that provides more benefits has more value. If an autism toy can be beneficial in different ways, it has more value than a single function. Magna Doodle drawing board can be helpful for a sensory input while used as a writing toy. It would have a lot less value without the writing pen.
Toys that have different levels of difficulty offer more value. One way to keep the value of a toy is to extend its longevity. If a toy only has one level, it will become either too easy or too hard of playing. There is no room to grow more interest to extend the play time. A good value toy usually last a few years in playing in different levels.
The high value of an autism toy is the toy that not only is fun, but it also generates the interest of an autistic child in learning communication and social skills. We can also say that toys are invaluable if they provide the core training for autistic children.
Top autism toys are the toys that can provide the great value for most autistic children.
Backyard Toys on Walmart
I consider myself as a "value hunter". Over the years, I found most backyard toys in Walmart for their values, especially if you buy them off-season in sale prices.
When you search keywords "backyard toys" on Walmart site, you will see 1000 toys from swing sets to water toys. Although swing sets, trampolines and water toys have their own limits to be treated as autism toys, they can provide great benefits for autistic children if they are used properly.
The Lifetime Ace Flyer Airplane Teeter-totter is our most valuable backyard toy from Walmart.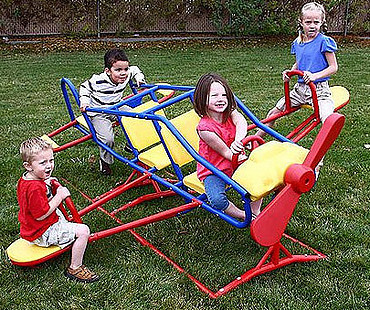 Its great value includes:
High interest level with autistic children. Most autistic children enjoy the spinning and seesaw motions. The spinning propeller brings up and down, side to side motions that can excite an autistic child.
An autistic child can learn imaginative plays through the interactive dash board. They can also learn a lot of action words through the play.
Although the level of difficulty is not as obvious, an autistic child can grow stronger as they play the seesaw with an adult more.
The teeter-totter can hold up seven children at once with 600lb weight limit which can promote social interaction for an autistic child. An autistic child can play with typical children easily.
Another great value of this toy is that keep children interested for years.
This toy can be seen as a best-spent and must-have toy for a backyard!
8-year-old Toys on Walmart
If you want to find toys that can last for a few years, try keywords" 8 year old toys" on search bar. You will see 25 pages with over 1000 toys that are good for age 3-13. You will most likely find something that has great value for an autistic child up to age 17. Here are my top choices within this search.
Dart Board Game Set with Sticky Balls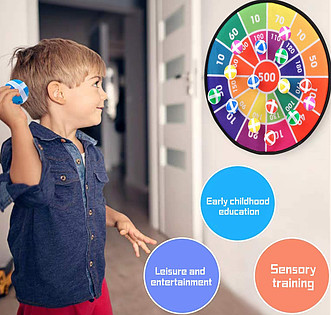 This $17 toy has great value to be used as an autism toy.
An autistic child can play this by themselves (no young siblings running around it though). They would have fun to see the 16 colorful balls that stick to the board without falling. They can play the toy as just "stick and peel" without throwing onto it from too far.
There are more benefits of the toy than it looks. It can be used as an exercise toy for arms, hands and core strength. Eye-hand coordination will improve accordingly as well. It also can be used as a sensory toy for "stick and peel'. On the top of that, it trains math skills.
The toy provides different levels of difficulty in different ways. The obvious one is from aiming the board to aiming "500" consistently from closer distance. After hitting "500" consistently, move farther to add difficulty. The most challenging level comes when using the non-dominant hand. Repeat the level training as right hand.
An autistic child can learn in many ways from this toy. Based on the need of the child, the child can learn words related to colors, numbers, distance and actions. They also can learn to share and social interaction while playing.
This toy presents one of the best value autism toys. You will enjoy this choice for a long time.
What a great idea of a Christmas gift with this arcade toy. Given by Santa or handed in person, an autistic child will be thrilled to see their favorite little candies or toys in the arcade. Here comes its value.
To get what they like, an autistic child will be interested in figuring out how to use the arcade. It will keep them busy for a while to get used to it. They can use the toy alone with recommended age.
The benefits of the toy don't seem as long on the list. It is great for hand manipulation and eye-hand coordination. It is a great tool for reward system. If used as a gift, it brings instant joy!
Although the arcade is not made a big toy, small toys are easy than small candies. To increase the level of difficulty, a tiny candy can be challenging. Never mind picking the coins.
An autistic child will learn rewards and fun from this toy. Depends on the need, this highly motivating toy can help improve language and communication skills if it is intended and designed to be used that way. They can also learn concepts of competition by beating the clock with a prize. What a fun way to compete!
This toy has long-lasting unique value when the contents of prize change. A motivating toy is hard to beat for an autistic child.
As you can see, we promote values in autism toys on Walmart, believing their motto "Save Money, Live Better".
Please share your Walmart shopping experience, especially if you are shopping there for autism products.
Don't hesitate to let us know if you need help to find something for your autistic love ones.