Great Christmas gifts fulfill the emotions of excitement, expectation, and enjoyment. These "3e" factors make the Christmas time special for children. However, for autistic children, more often we can only tell whether they enjoy the Christmas presents or not. It makes harder to find a great Christmas gift for them.
What is a Great Christmas Gift for an Autistic Child
It is a long-debated topic about the rules of Christmas gifts. As a mom of autistic twin boys, I believe great Christmas gifts should bring the visible joy from autistic children. Sometimes you can see their smile or excitement over the present. And sometimes you can only tell the enjoyment by how much time they voluntarily spend on the present.
Typical children might wish to have particular clothing or accessories that are meaningful to them for their Christmas.
Although weighted vests or pressure clothing are great for autistic children who might need those special sensory clothing, it is much harder to see their enjoyment on those items. A weighted vest is a more great Christmas present for the autism mom than the autistic child.
Great Christmas presents also help autistic children build the expectation for more coming Christmas. For typical children, you can explain why they didn't earn their great Christmas gifts if happened. Hopefully this might motivate them to behave better for next Christmas. For a lot of the autistic children, it is much more difficult to process the same concept since they might not know how to expect the great Christmas presents to begin with. But great Christmas presents can help remind them how special the gifts are throughout the year as they are interested in using them. Hopefully this will help them build some expectation for next Christmas.
So where to buy those great Christmas presents?
You might be able to find some great Christmas gifts for autistic children in local stores if you know what you are looking for. If not, these are a few great websites that have large selections that might be able to fulfill your need through their uniqueness.
As an autism mom, this is a great autism product website as they make the functional products fun. I could have saved a lot of money if I had known them earlier.
Fun and Function Products make special spins on the average autism products that you can find somewhere else. Many of their products can be great Christmas gifts for autistic children.
If I must have two top-picked products from them, I will choose,
This is a typical autism mom's pick as these vibrant-colored seats can serve a lot more than just kid-sized seats. An autistic child can sit in the cube securely while playing, drawing or eating. Flip the cube chair to fit a taller child. An adult can sit on the table-top as a stool. A great Simon Say game can be created with the combination in 3 different heights and 4 different colors.
The chairs are so durable that they can stay in backyard all seasons for additional sitting after the kids don't need the chairs.
This Animal Lap Pad is a 3-in-I tool that can serve as an animal toy, a sensory toy and a calming weight. The weight on the lap helps concentrate while sitting. It provides tactile input from the faux fur and it can be used as the fidget toy from the tail and ears.
An autistic child can enjoy keeping the lap pad while having their "friend" sitting on the lap. It can be also placed on the child's back to relax and sooth. A perfect addition for long car rides or plane trips to sustain the jiggles.
This site has most interesting toys and games for children. It is a must-go store for autism toys if you are searching something beyond sensory need for your autistic child. A lot of their toys are simple but creative, and they can easily adapt to the interest of an autistic child.
The site is easy to navigate with clear age-grouped toys, although you will see a lot overlaps with the same toys in different age group.
Best of all, many toys in their Best Sellers list can be very interesting to autistic children and they can be great Christmas gifts for autistic children. You don't get that convenience very often to find toys for them on one website.
Our top-picked great Christmas presents for autistic children from the site are: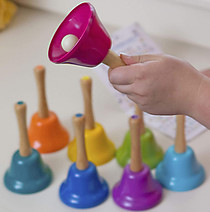 This timeless toy is a bonus joy for Christmas time!
The set of 8 color-coded and numbered hand bells have clear tones and in tune. The vibrant colors and wood handles add extra beauty to it.
It helps hand-eye coordination and listening skills for autistic children. They will enjoy the fun and easy way of making their Christmas music Jingle Bell with the provided 8 music sheets.
Their creativity will be on display when they use the toy to make their own music.
This is one of the most simple and creative toys that can be played for years in a house. It is one of our top autism toys.
An autistic child will enjoy the actions of rolling, bouncing, banking, stacking, nesting from game! They can play either with the provided rules or they can play with their own ways. Regardless, they will enjoy spending a lot of time on this by themselves or with family and friends.
National Autism Resources is a comprehensive website that solely provides a wide selection of products for autism community. If you are looking for something practical as Christmas gifts for the need of an autistic child, you come to the perfect place.
The products from their Sensory Room Furniture are top-notch that any item from that category is a great Christmas gift if someone can afford. Everyone including the autistic child can feel totally relaxed by those calming products.
With limited budget for Christmas presents, the following two are our top picks of the great Christmas from this site.
Most autistic children will enjoy the soothing vibration from this pressure activated pillow. Operation is easy. Just squeeze without the worry of cords or switches. The soft corduroy cover adds extra texture for the tactile sensory.
An autistic child would love the gentle vibration when they squeeze it, hug it(tightly), sit on it or lean back on it. They will look for their pillow very often for the relaxing and calming vibrations.
The fully assembled original Hoberman Sphere is constructed by a lot of bright-colored interconnected moving parts. Not only is the toy highly visual that can help with coordination, but also help problem solving with the 21 suggested activities on the game sheet. It is also a great tool to teach autistic children to do deep breathing.
An autistic child will be amazed by this toy that expands from 9.5 inches to an incredible 30 inches with a pull. They will have a lot of fun to play with it while having their figure strength and bilateral coordination trained! They will enjoy this easy but fascinating toy for a good amount of time.
There are plenty of reasons that you want to consider buying the Christmas gifts on Amazon. But it can be a whole different ballgame when buying gifts for an autistic child.
Both "fat brain toys" or "fun and function" promote some of their products on Amazon. You will be able to find some interesting items if you search these brands there.
There are not many interesting items shown on the site from the search of "Christmas gifts for autistic children", although with some hard search, you might see the following two toys can be great Christmas gifts for an autistic child.
This is a 4-in-1 electronic memory brain game toy that an autistic child will be amazed by a few great features from it.
They would enjoy the light-up cube in the dark like holding a light bulb. They might not play perfect four games in advanced levels from the toy, but they would love the flashing lights and enjoy the beginner level of different games in it.
This oval mini trampoline will be an instant hit for an autistic child. The oval shape is more interesting than most rounded trampolines in a backyard that they might have already known. The trampoline allows convenient and quick sensory input through  jumping that they crave very often.
This cost-efficient trampoline is compact and lightweight that can be easily moved around the house where you can keep the eyes on the autistic child if needed. It also can be used as an great tool for trampoline therapy.
You might want to tag alone a Christmas gift for an autism child while shopping on Walmart. When you use the keywords "Christmas gifts for autistic children" on the search bar of the site, you will be shown 25 pages of at least a thousand mostly sensory toys as a result. Just like us, you most likely won't find many wow items from that search.
With different search keywords from the site, here comes our top two products for autistic children for their Christmas.
It is a great idea of a Christmas gift with this arcade toy. Given by Santa or handed in person, an autistic child will be thrilled to see their favorite little candies or toys in the arcade. The eye-catching basketball theme is a great addition for the interest level. If used as a gift, it brings instant joy!
It is great for hand manipulation and eye-hand coordination as well as a great tool for reward system. They can also learn concepts of competition by beating the clock with a prize. It is a great Christmas toy that has long-lasting unique value when the contents of prize change.
This smart robot toy will make an autistic child smile with its cool interactive rolling dance move. It gets activated from senses of sound or touch.
An autistic child will enjoy watching the robot dance with light and music when playing alone. They can also play it with family and friends through its multiplayer mode which makes the toy perfect fit for a great Christmas gift.
Christmas gifting is a hard concept for most autistic children to fully understand. There is only one precious Christmas gifting time each year so it becomes more important to get the enjoyable gifts for their Christmas to help their learning. The great Christmas gifts that can be used throughout the year serve better function as they buildup more memories how special the great Christmas gifts are.
Please share with us your experiences with buying Christmas gifts for an autistic child.
We are here to help you find the great Christmas gifts for your special ones!